LA TORDERA, history & sustainability in the hearth of prosecco production area
The History of Vettoretti Family
La Tordera winery was founded in the hills of Valdobbiadene, the heart of the Valdobbiadene Superiore DOCG production area, between Venice and the Dolomites.
It is run by Vettoretti Family, Prosecco producers in Valdobbiadene for more than 100 years. Their beginning dates back to 1918, when the Great Grandfather Bepi Vettoretti planted the first grapes in the premium Cartizze Hill in a small area called Tordera; this part of the hill was called Tordera as it was rich in trushes (tordo in Italian) that used to fly from the nearby mountains looking for food among the rows of vines.
Today the forth generation runs the winery La Tordera and they decided to pay a tribute to their family history by calling the company "La Tordera".
Natural Balance, La Tordera's sustainable philosophy
For 4 generations La Tordera key word has been Natural Balance, continued and ongoing research into sustainable agriculture from an environmental, economic and social point of view.
Natural Balance stands for the continuous search for sustainability in a closed circle from the cultivation practices in the vineyard to the production of all our bottles, to the selection of materials used for our packaging, to the CasaClima Wine-certified, company building we work in every day.
La Tordera's commitment shows through a series of practices which influence every aspect of the winery and whose goal is a "greener" winegrowing process and environmentally sustainable harmony.
Every step taken is completely supervised by the Vettoretti family, a closed circuit that we wanted to represent with the graphic symbol of the circle next to Natural Balance.
La Tordera Prosecco
All the Proseccos produced by La Tordera follow a strictly quality control, from the vineyard to the bottle. They are meant to be the true expression of the land where they are harvested.
Valdobbiadene Prosecco Superiore DOCG, which spans 15 hilly municipalities between Valdobbiadene and Conegliano, is the historical area that produces this sparkling wine. The steep slopes, the characteristics of the environment, the composition of the soil, as well as the history and tradition make this territory unique and perfect for the production of the Glera grape variety.
 Brunei Valdobbiadene Prosecco Superiore DOCG Brut is the best way to taste the most typical expression of the territory for La Tordera. Fruity and fresh, it embodies the pleasure of staying together around a good bottle of sparkling Prosecco.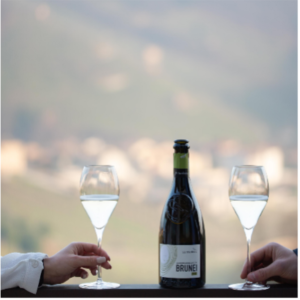 Prosecco Doc Treviso and, in an even vaster area, Prosecco Doc are produced in the plain areas with different characteristics. The new arrived is Prosecco DOC Rosé, which can be produced only since 2019 with at least 85% of Glera and for the rest only Pinot Noir, harvested in the same area pf prosecco DOC.
Tor sè Prosecco Rosé DOC Treviso Brut is the latest release of La Tordera winery. Made of Glera and Pinot  Noir, it features floral notes of rose and fruity peach and it makes every toast a fancy one. Try it as an aperitif or with tempura food.