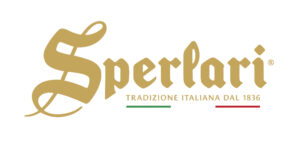 SPERLARI'S ORIGINS
From celebrations to moments of everyday life, our biggest ambition is to give people little sweet and unique moments of happiness.
It all began in 1836, in a little shop in Via Solferino – in the centre of Cremona – a short walk from Piazza del Duomo.
Here Enea Sperlari combined a personal passion with a business idea: he started selling the two traditional Cremonese craft specialties: torrone and mostarda (a pickle made of candied fruit and mustard-flavoured syrup). The artisan quality of his creations won over the entire city, and not only: it is said that composer Giuseppe Verdi used to visit Cremona to stock up on his specialities.
The Sperlari brand quickly became famous worldwide. But the historic little shop in Via Solferino, which has become part of Italian folklore, is still open today, selling its sweetmeats to many Italian families just as it did 180 years ago.
Our history has continued through acquisitions during the decades.
We have chosen brands that have been founders of their category: Saila, the original refreshing bean, master of licorice, was founded in 1937.
Galatine, the unique and original milk tablet dates back to 1956. Dietorelle, the sugar-free candy was created in 1977 and still nowadays is up- to-date with its 100%vegan and sugar free wide range.
Sperlari is synonymous with emotions, sharing and of course sweetness.
A brand with a rich and varied product range and an unshrinking focus on innovation.
Besides our Christmas specialties, its sweets and chocolates are also year-round treats for those with a sweet tooth.
TORRONE'S ORIGINS
Torrone is a typical Italian nougat, commonly found during the Christmas period and is a pearl of the Italian immense gastronomic heritage. It is also the flagship product of Sperlari, which has been making it for over 180 years with masterful skill and undisputed, acknowledged quality.
Its origins can be traced back to ancient Arab traditions, from which it gradually spread to the whole Mediterranean basin, especially to Italy, where then history and fortunes of this nougat are inextricably linked to the city of Cremona.
It all began for the wedding between Bianca Maria Visconti, daughter of the Duke of Milan, and the Condottiero Francesco Sforza. The ceremony took place on 25th October 1441 and it was the occasion for great celebrations: the confectioners of Cremona decided to join in by creating a new nougat in honour of the betrothed with a shape that recalled the bell tower of the city, known as the Torrazzo or Torrione. Hence the name torrone, by which the recipe is still called today.
Time went by and torrone continued to be a welcome gift. However, production methods were changing, since they had to evolve in order to cope with the increase in consumption. From the apothecaries' workshops, torrone production moved to the first factories specialized in confectionery.
By the eighteenth century there were already twenty such factories in the area of Cremona.
Sperlari - Italian Tradition Since 1836
Sperlari - Italian Tradition Since 1836 - Commercial presentation special